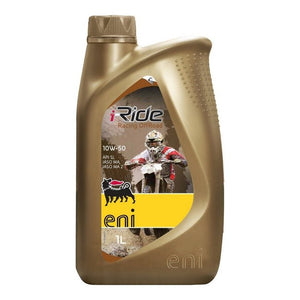 eni i-Ride racing OFF-ROAD 10W-50 is a "top synthetic" lubricant formulated with high quality base stocks and specific additives, designed by eni research to meet the lubrication requirements of 4-stroke motorcycle engines.
The product has excellent properties that ensure high performance even in particularly harshoperating conditions.
 • The product maintains its viscosity and lubricity characteristics in all operating conditions and provides a suitable lubrication of the mechanical components even at high temperatures.
• The particular formulation of eni i-Ride racing 10W-50 is able to provide the best engine protection by effectively controlling the wear phenomena in all the operating conditions, also in the most extreme ones.
• The detergent and dispersing qualities of eni i-Ride racing OFF-ROAD 10W-50 are the result of a careful selection of the components included in the formulation, which results in effective control on the formation of deposits such as sludge, lacquers and of carbonaceous type.
• eni i-Ride racing 10W-50 is characterized by excellent performance that makes it suitable for use in the most stressed engines.
• The formulation of the product maintains its properties for the entire drain interval, due to the resistance offered to deterioration caused to oxidation phenomena.
SPECIFICATIONS
• API SL
• JASO MA, MA2
CHARACTERISTICS
| | | | |
| --- | --- | --- | --- |
| Properties | Method | Unit | Typical |
| Density at 15°C | ASTM D 4052 | kg/m³ | 856 |
| Viscosity at 100°C | ASTM D 445 | mm²/s | 18.6 |
| Viscosity at 40°C | ASTM D 445 | mm²/s | 130 |
| Viscosity Index | ASTM D 2270 | - | 160 |
| Viscosity at -25°C | ASTM D 5293 | mPa·s | 6800 |
| Flash point  | ASTM D 92 | °C | 235 |
| Pour point | ASTM D 97 | °C | .24 |