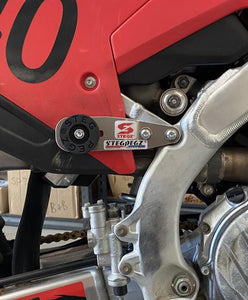 What are Steg Pegz?
A must have for Adventure riders. Unmatched in off-road motorcycle control. The Steg Pegz allow you to grip and control with your legs not just your arms!
Immense control reducing arm pump & fatigue.

WHAT ARE DESERT KING HEAVY DUTY STEG PEGZ?
These are for the serious off road rider or desert rider.
40mm rubber protrusion (3 x rubbers each side). For serious grip! You can still run 1, 2 or 3 rubbers.
5mm thick 5083 grade aluminium plate
50mm adjustability forward and back
STANDARD OR FURTHER BACK?
If you are like the majority of Riders that stand on the arches of your feet on the foot pegs, you will want just the standard Steg Pegz.
However, if you ride on the balls/toes of your feet, you will want the further back StegPegz. The rubber is set back approx 75mm from standard. Additional custom cost of $14.95
Select your option from the drop down list!