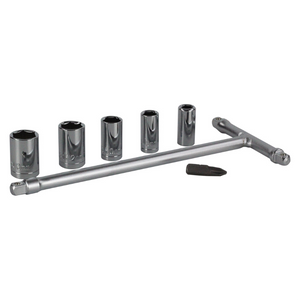 The 5 Way Mini T-Bar Socket Set is a handy option to have in your toolbox, bum bag, car door, kitchen drawer...really, pretty much anywhere. These little sets feature some of the most commonly utilized socket sizes and with every end of the t-handle able to fit those sockets, you can get into just about any difficult spot that you need to. 
FEATURES 
Includes 8,10,12 & 13mm 1/4" sockets and Phillips head and adaptor
Perfect for the backpack or bum bag!