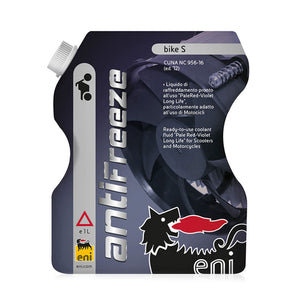 Eni Antifreeze Bike S is an amine, phosphate and nitrite free engine coolant based on ethylene glycol. It is a ready to use product for scooters and motorbikes cooling systems. It contains a corrosion inhibitor package based on salts of organic acids (OAT) that delivers durable performances for prolonged change intervals.
CUSTOMER ADVANTAGES
Mainly addressed to satisfy the needs of motorcycles applications, Eni Antifreeze Bike S is one of the most modern radiator protection products on the market capable to fully meet also the performance requirements of passenger cars, heavy-duty vehicles, agriculture and earth-moving machineries, etc.
It has long-term protection against corrosion for all materials used in the engine and radiator construction, such as cast iron, aluminium, copper and solder alloys as well as a good compatibility with hoses, seals or plastics.
It contains carefully selected amine, nitrite and phosphate free inhibitors and is therefore environmentally friendly.
This product can be used in those cases where it is required a product with a performance level ASTM D 4985
SPECIFICATIONS AND APPROVAL
CUNA NC 956-16 (ed. '12)
ASTM D 3306
AFNOR NFR 15-601
JIS K 2234:2006
CHARACTERISTICS
| | | | |
| --- | --- | --- | --- |
| Properties | Method | Unit | Typical |
| Colour | - | - | Pink |
| Density at 20°C | ASTM D 1122 | kg/m³ | 1071 |
| pH | ASTM D 1287 | - | 8.48 |
| Boiling point | ASTM D 1120 | °C | 110 |
| Freezing point | ASTM D 1177 | °C | -41 |
WARNINGS
Mixture with other coolants is not advised.
Please observe carefully manufacturer's specification on product.
HANDLING INFORMATION
The product must not be diluted with water before use
Good communication swift delivery
Happy customer
The antifreeze is great, I have been using it since my Ducati was new. It is what is recommended by the factory but it is impossible to find here in the States. Adventure store was excellent, they had it at my door steps in just over a week.
ENI Anti Freeze Bike 2l
Manufacturer recommendation and found to be great product. Excellent customer service from store, no fuss and super fast delivery. Very happy.