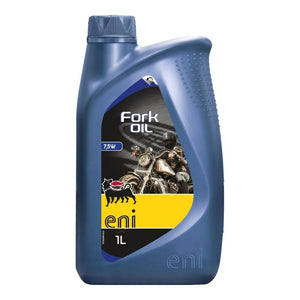 Eni Fork Oil 7.5W is a product designed for the motorcycle industry designed and developed for use in forks and shock absorbers, suitable for both road and off-road use. The product is part of the Fork Oil series, which includes products with a different viscosity gradient to be selected in relation to the manufacturer's requirements and/or the damping action desired. It is also possible to obtain intermediate grades by mixing with other Fork Oil grades.
CUSTOMER ADVANTAGES
Eni Fork Oil 7.5W is equipped with appropriate rheological features such as low temperature fluidity, high viscosity index and a very low sliding point, which results in smooth and uniform suspension behaviour in a wide range of temperatures.
This product is characterized by high anti-wear properties, which ensure high protection and long service life to the lubricating parts.
The corrosion-resistant properties of Eni Fork Oil 7.5W allow effective protection of surfaces against corrosive phenomena.
Eni Fork Oil 7.5W has the necessary properties for the correct operation of the lubricated equipment, such as low foaming, low air retention, stability in hot conditions, and compatibility with rubber materials (gaskets).
CHARACTERISTICS
| | | | |
| --- | --- | --- | --- |
| Properties | Method | Unit | Typical |
| Density at 15°C | ASTM D 4052 | kg/m³ | 865 |
| Viscosity at 100°C | ASTM D 445 | mm²/s | 6.1 |
| Viscosity at 40°C | ASTM D 445 | mm²/s | 31 |
| Viscosity Index | ASTM D 2270 | - | 148 |
| Flash point (COC) | ASTM D 92 | °C | 202 |
| Pour point | ASTM D 97 | °C | -42 |