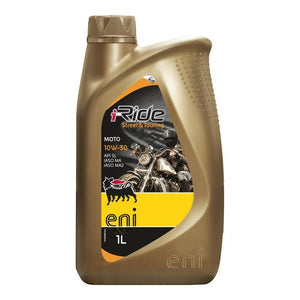 Eni i-Ride moto 10W-30 is a synthetic technology lubricant, designed for the latest four-stroke motorcycle engines. It is a product of superior quality expressly formulated to meet high performance levels.
CUSTOMER ADVANTAGES
Eni i-Ride moto 10W-30 can withstand high stresses to which also multi-valves motorcycles are submitted.
The product guarantees high protection both in motorways and in urban areas.
The formulation of Eni i-Ride moto 10W-30 allows to ensure perfect lubrication of the engine, both at low and high temperatures.
The perfect balance between the additives used allows maximum protection and engine life, optimizing clutch and gear performance.
SPECIFICATIONS AND APPROVAL
CHARACTERISTICS
| | | | |
| --- | --- | --- | --- |
| Properties | Method | Unit | Typical |
| Density at 15°C | ASTM D 4052 | kg/m³ | 869 |
| Viscosity at 100°C | ASTM D 445 | mm²/s | 11.1 |
| Viscosity at 40°C | ASTM D 445 | mm²/s | 73 |
| Viscosity Index | ASTM D 2270 | - | 142 |
| Viscosity at -25°C | ASTM D 5293 | mPa·s | 6800 |
| Flash point (COC) | ASTM D 92 | °C | 220 |
| Pour point | ASTM D 97 | °C | -30 |