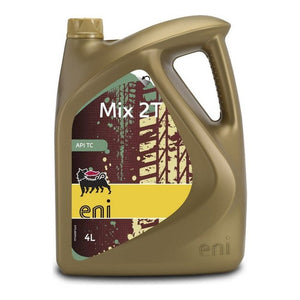 eni Mix 2T is a lubricant developed for 2-stroke engines of scooters and motorcycles, air- or liquid-cooled. According to the type of engine, the product can be manually mixed into fuel tank or used in the self mixing lubricating system.
CUSTOMER ADVANTAGES
eni Mix 2T is formulated using a low ash content additive package which minimizes combustion chamber deposits, spark-plug fouling and the blocking of exhaust ports. Its detergent properties minimize lacquer formation and carbon deposits thus preventing piston-ring sticking.
eni Mix 2T reduces rust and corrosion in the engine resulting from attack by combustion moisture and acids.
SPECIFICATIONS AND APPROVAL
CHARACTERISTICS
| | | | |
| --- | --- | --- | --- |
| Properties | Method | Unit | Typical |
| Colour | - | - | red |
| Density at 15°C | ASTM D 4052 | kg/m³ | 871 |
| Viscosity at 100°C | ASTM D 445 | mm²/s | 9.0 |
| Viscosity at 40°C | ASTM D 445  | mm²/s | 62 |
| Viscosity Index | ASTM D 2270 | - | 121 |
| Flash point P.M. | ASTM D 93 | °C | 111 |
| Pour point | ASTM D 97 | °C | -28 |