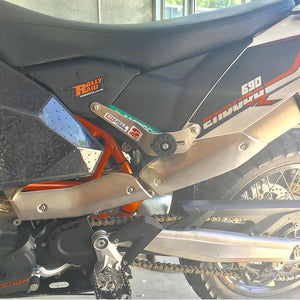 What are Steg Pegz?
A must have for Adventure riders. Unmatched in off-road motorcycle control. The Steg Pegz allow you to grip and control with your legs not just your arms!
Immense control reducing arm pump & fatigue.


WHAT ARE DESERT KING HEAVY DUTY STEG PEGZ?
These are for the serious off road rider or desert rider.
40mm rubber protrusion (3 x rubbers each side). For serious grip! You can still run 1, 2 or 3 rubbers.
5mm thick 5083 grade aluminium plate
50mm adjustability forward and back
Great bit of kit
These Steg pegz are the best. I was sceptical about what they would be like but now I've installed and ridden with them, they are amazing. The ability to easily lock in a grip your bike is an amazing feeling I've never experienced before. It has improved my riding and confidence and saved my arms.
But best of all Adventure On Store were able to deliver them in less than week from the day I ordered.
Great service and advice is free.